For Immediate Release:
October 27, 2022
Contact:
David Perle 202-483-7382
Methuen, Mass. – In time for Halloween, PETA and locally based business Titan Casket have collaborated to allow animal rights activists go to their grave in one of a line of elegant coffins bearing pro-animal messages such as "Life Is Short—Don't Wait to Go Vegan" and "PETA Member for All Eternity."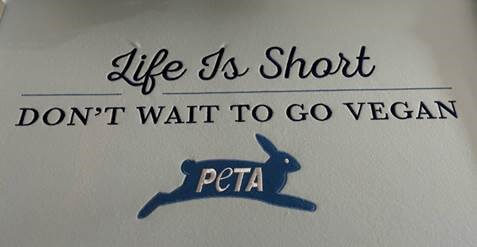 "For anyone wishing to pass on a message of kindness after passing on, these lovely caskets will allow compassionate souls to continue their animal advocacy from beyond the grave," says PETA President Ingrid Newkirk. "PETA is delighted to help good souls show they had a heart for others even after it stops beating."
Going vegan could keep the need for a casket at bay longer, as studies show that people who consume meat and dairy are more likely to suffer from heart disease, strokes, obesity, and numerous other potentially fatal ailments and conditions. And every person who goes vegan spares nearly 200 animals a year a miserable life and a violent death at a filthy, blood and offal–soaked slaughterhouse that's straight out of a horror movie.
Ten percent of all proceeds from the caskets will be donated to PETA. The coffins are available in blue, white, or silver in the bestselling Orion Series model. And anyone planning to be cremated can still be part of the afterlife action, as pro-vegan urn decals are available in the PETA Shop.
PETA—whose motto reads, in part, that "animals are not ours to abuse in any way"—opposes speciesism, a human-supremacist worldview. For more information, please visit PETA.org or follow the group on Twitter, Facebook, or Instagram.
Titan Casket calls itself the nation's premier direct-to-consumer casket company and consumer rights advocate, allowing customers to buy caskets online for half the price they would pay for one from a funeral home. The Federal Trade Commission's Funeral Rule provides families with the right to buy a casket outside a funeral home and requires funeral homes to accept delivery. Learn more at Titan Casket's website, or follow it on Twitter or Facebook.