On Saturday, October 8th, two activists were found not guilty on all counts after a weeklong trial in Washington County, Utah.  Wayne Hsiung and Paul Darwin Picklesimer of Direct Action Everywhere (DxE) were accused of burglary and theft after removing two sick pigs from a Smithfield Foods farm. The pair were facing a total of five and a half years each.
Smithfield Foods Farm Investigation & Rescue
Hsiung and Picklessimer, along with other members of the international animal activists network, DxE, investigated Smithfield Foods Circle Four Farms in Milford, Utah. The investigation took place over the course of a year from 2017-2018. 
Smithfield Foods is the largest producer of meat from pigs in the United States, producing one-fourth of all pig products. The company is owned by WH Group in China, the largest producer of meat from pigs in the world.1 Smithfield supplies products from pigs to retailers like Target, Walmart, Sam's Club, Costco, Target, Sam's Club, Vons, Safeway, and Ralphs.2
The company committed to banning crates for pigs in 2007. But the investigation led by DxE showed otherwise.2
During the investigation, Hsiung and Picklessimer rescued two three-week-old piglets who were sick and malnourished. The piglets, later named Lizzie and Lily, were taken to a sanctuary to receive care.
The Smithfield Foods Farm Trial
Following the release of the footage from the Smithfield farm, the FBI identified Hsiung and Picklesimer and began a multi-state chase. Agents raided animal sanctuaries in Utah and Colorado. At one sanctuary, a government veterinarian sliced off a part of a pig's ear to test the DNA to try and identify her as a Smithfield pig.3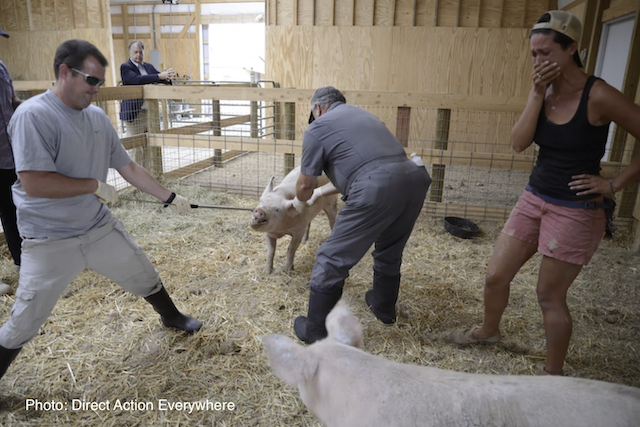 The federal government declined to press charges after the pigs were not found. But Hsiung and Picklesimer still faced burglary and theft charges in Washington County, Utah. They faced five and half years if convicted.3
The prosecutors claimed the alleged "stolen" piglets were of a value of around $42.20 each to Smithfield Foods – whose annual revenue is around 14.4 billion dollars.1, 3 During the trial, veterinarian Dr. Sherstin Rosenberg disagreed with the value of the piglets. She testified that the piglets would have needed hundreds of dollars in veterinary care to have survived based on their conditions.4
The assumed value of the pigs was a part of the prosecution's argument–a value the defendants testified was based on the condition of pigs inside the Smithfield's farm. But Judge Jeffrey Wilcox would not allow the footage captured by DxE that showed these conditions to be used in court. He claimed the footage was too graphic for the jury.5
Baby pigs are enduring mutilation, starvation, and abuse at Smithfield, and the company doesn't want the public to know about it. This is an attempt to intimidate activists who are showing the public the truth about what happens in factory farms.

-Wayne Hsiung of Direct Action Everywhere (DxE)
The investigative footage was legally obtained after a federal court struck down Utah's ag-gag law in 2017. The law previously banned the secret filming of farms. But the courts found this unconstitutional and a violation of free speech.6
After a week of testifying, the jury found Hsiung and Picklesimer not guilty. The rescued pigs, Lizzie and Lily are still alive today at a sanctuary. 
This is a resounding message about accountability and transparency. Every company that is mistreating its animals and expecting that government and local elected officials will just go along with them because they have them in their pockets will now realize that the public will hold them accountable…Instead of trying to put us in prison, the better thing to do is just take care of your animals.

-Wayne Hsiung of Direct Action Everywhere (DxE)
The verdict helps advance the rights of animal activists to expose animal cruelty. This is an important step forward at the start of a crucial week for farmed animals. On Monday, October 11th, the National Prok Producers Council challenged California's Prop 12 in front of the U.S. Supreme Court. A decision on this crucial farmed animal protection is expected by Spring 2023.7
The Industry's Attempts to Silence Activists
This isn't the first time activists have been targeted and taken to trial by the meat industry. In 2008, acclaimed animal rights activist, Dr. Martin Balluch, was arrested in Austria alongside ten others.8
The groups were taken into custody without criminal charges, under a law that was aimed at preventing organized crimes. Dr. Balluch protested the misused law with a hunger strike, which would last 39 days. After four months in jail and a fourteen-month trial, Dr. Balluch and the other activists were found not guilty.8
Two of Animal Equality's co-founders, Sharon Núñez and Jose Valle, were also arrested for their activist work in 2011. The meat industry in Spain had targeted Núñez, Valle, and their group of activist friends, for filming inside factory farms.9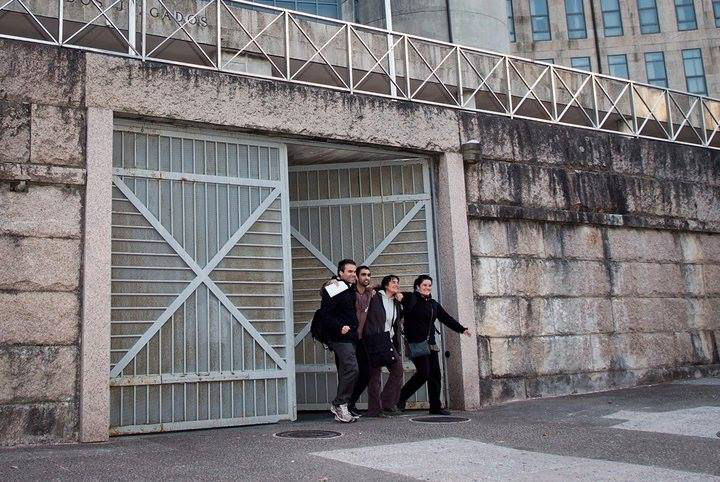 After years of being followed, investigated, and having their phones tapped, Núñez, Valle, and ten other activists were arrested on the way to film a slaughterhouse. The group was released after five days. The case was closed years later when a judge stated their investigative work was not illegal.9
How you can help activists fight the meat industry:
Animals used for food and raised on factory farms are suffering for human consumption. Mother pigs are kept in crates barely bigger than their own bodies–unable to turn around or nurture their piglets for most of their lives. Baby cows are separated from their moms just moments after birth so they don't drink their mother's milk. Chickens are growing so large, so quickly that they cannot walk to their food or water. And the meat industry is profiting off of this exploitation. 
You can help stop the demand for animal products–which are always produced through exploitation–by switching to a plant-based lifestyle. Visit LoveVeg.com for easy, cruelty-free alternatives. 
---
SOURCES:
1Smithfield Foods: https://en.wikipedia.org/wiki/Smithfield_Foods
2Inside Smithfield's Toxic Pig Farms: https://global-uploads.webflow.com/5e87bc51b914fafd5354ac2a/5f0b62343ebbae46c0b6d0eb_Smithfield_Report_2019.pdf
3Animal Rights Activists Are Acquitted in Smithfield Piglet Case: https://www.nytimes.com/2022/10/08/science/animals-rights-piglets-smithfield.html
4Animal Rights Activists Found Not Guilty…: https://www.sltrib.com/news/2022/10/08/animal-rights-activists-charged/
5Trial Begins for Activists…: https://www.fox13now.com/news/local-news/trial-begins-for-animal-activists-accused-of-stealing-2-piglets-from-utah-factory-farm
6Animal Rights Activists Not Guilty in Theft of Utah Piglets: https://www.usnews.com/news/best-states/utah/articles/2022-10-09/animal-rights-activists-not-guilty-in-theft-of-utah-piglets
7California's Prop 12 Challenged in the U.S. Supreme Court: https://animalequality.org/blog/2022/10/07/californias-prop-12-challenged-in-the-u-s-supreme-court/
8Sorenson Interview with Martin Balluch: https://journals.library.brocku.ca/index.php/brockreview/article/view/407/553
911 Years Later: Animal Equality's President Does What It Takes: https://animalequality.org/blog/2022/07/05/animal-equality-does-what-it-takes/