"I've always been fond of travelling. So, it was nothing short of a dream come true for me when I travelled across the country to reach one of my favourite destinations," exclaims Kochi resident Sudheesh K T, who recently fulfilled his lifelong wish of taking a road trip to Ladakh on his 100 cc bike.
But the journey was special for a very different reason and it was because he had the best travel companion — Snowbell, his three-year-old pet dog. "Travelling with Snowbell was one of the best decisions I took," says the 28-year-old, who rescued him from the street almost three years ago.
"There have been several incidents of people mistreating dogs and abandoning them, that I came to notice in recent times. Therefore this journey was also an effort to send out a message to society that these poor creatures are no lesser than human beings and must be treated equally. Besides, people consider Indie dogs as inferior to foreign breeds and I wanted to prove them wrong," Sudheesh tells The Better India.
Starting on May 8, he says that they both enjoyed every bit of their trip, crossing over 15 states across the country, covering over 12,000 km, and returning after two months on July 15.
Fulfilling a long-cherished dream
Growing up, Sudheesh recalls that his love for travelling began during his school days, when most of his classmates went on school tours he had to stay back as his family couldn't afford the expense. "Since then, it turned out to be one of my life goals to travel a lot and explore different places," he adds.
"So, when I got a job, I started saving up and going for small trips within Kerala with my family and sometimes solo," says Sudheesh, who works as a shop manager in a medical store.
While planning for his longtime dream journey to Ladakh, he knew that his monthly earnings wouldn't suffice. So, he started working as a food delivery agent for Zomato post his work, from evening till midnight. He says his wife Amrutha and his parents stood by him in all his endeavours.
"By doing two jobs I was able to make a decent earning for my family as well as save up something for my trip. I even work extra at times to meet the budget whenever I plan trips," he says, adding, "The Ladakh trip was also under a strict low budget. We just spent around Rs 50,000 for the entire trip including food and fuel."
Sudheesh and Snowbell's Ladakh trip was on a 100 cc Herohonda splendour on which they carried their camping essentials including a camping stove, tent, sleeping bags and so on. "I did think of buying a 200 cc off-roading bike for this trip but I couldn't afford the price. So, I dropped the idea and went ahead with my humble chariot which I have been riding for the past three years. It was in good condition and had decent mileage," explains Sudheesh.
When he decided to take Snowbell with him, Sudheesh says that he wasn't sure about how to set up a special seat for him which was both safe and comfortable. "I found several videos on the internet, from outside India where people set up a special canine carrier for their dogs. I was impressed by a model that I felt was perfect for Snowbell. So, I designed a similar model and made the carrier with the help of a welder. We also did upholstery work to make sure that the seats were comfortable for Snowbell," he elaborates.
After fixing the seat, to test the waters, Sudheesh started taking Snowbell on his bike to smaller distances in the vicinity. "Right from the time I got him, I have been training him in everything. He is very clever and has always been obedient. I was impressed by the fact that he was equally excited as me," he says, adding that eventually, through training, Snowbell got his way around travelling on the customised seat.
Before starting the journey Snowbell was taken to a veterinarian to check if he was fit enough to go on a trip. "The doctor said he was healthy and we got him vaccinated. He also received a fitness certificate. Besides, as per the doctor's suggestion I also bought a few gears like helmet, goggles and raincoat for Snowbell to make his journey safer," he says.
Off to the mountains
Starting their trip from Edappally in Kochi, the duo crossed over 15 states to reach Ladakh. On their way back they skipped the Northeastern region due to heavy rains at that time.
Sudheesh says one of his favourite places they visited was Jammu and Kashmir where the duo spent over a week. "I was mesmerised by the beauty of the place and I am sure Snowbell was too. We also went trekking in Gulmarg. It was an unforgettable experience for both of us as we experienced snow for the first time in life," he gushes.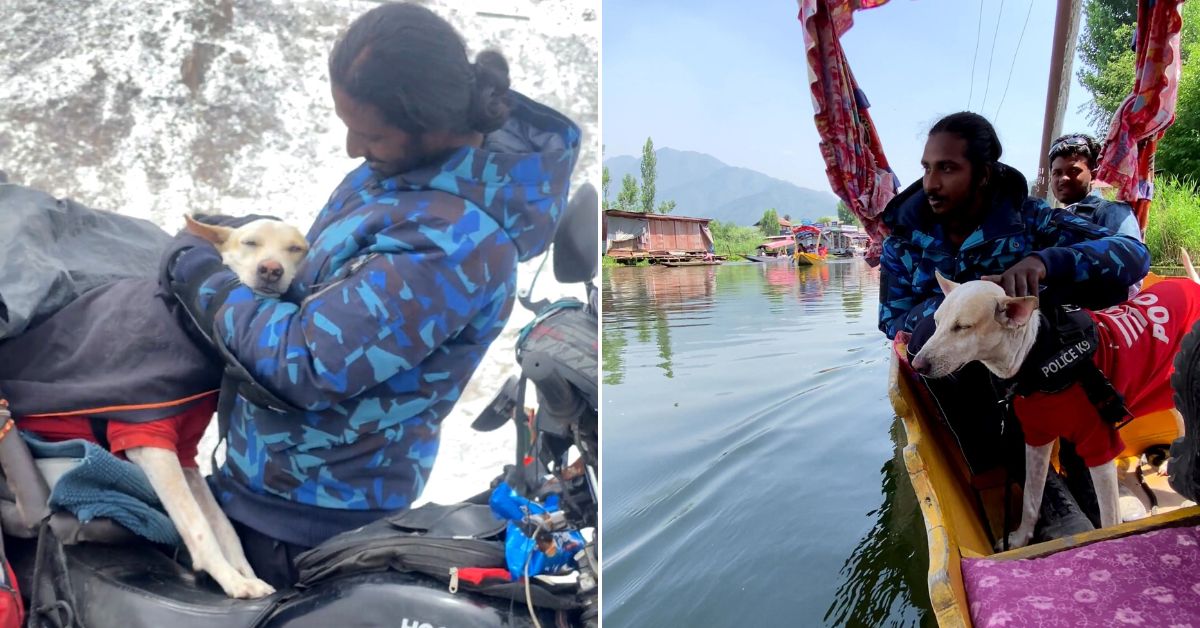 The duo also trekked the Kalsubai peak, one of the tallest peaks in Maharashtra. "The Kalsubai trek was a bit difficult for Snowbell as there were certain places which were really steep. So, I carried him. It was Snowbells' first trek and I felt that it made him more confident while we trekked in other locations," says Sudheesh, adding that they also went for a 42 km trek in Kedarnath.
Finally, when they reached Ladakh, he says that they spent a few days in Nubra Valley. Besides, they were thrilled to witness the Himalayan ranges and the famous Pangong Lake in real life.
Sudheesh and Snowbell camped in their tent at night. Though it was an amazing experience to be able to travel across the country, Sudheesh says it wasn't without its challenges.
"There were objections from the people in some neighbourhoods and also sometimes from the police as well. We had instances where we had to remove our tents and travel throughout the night till we found another place," he says.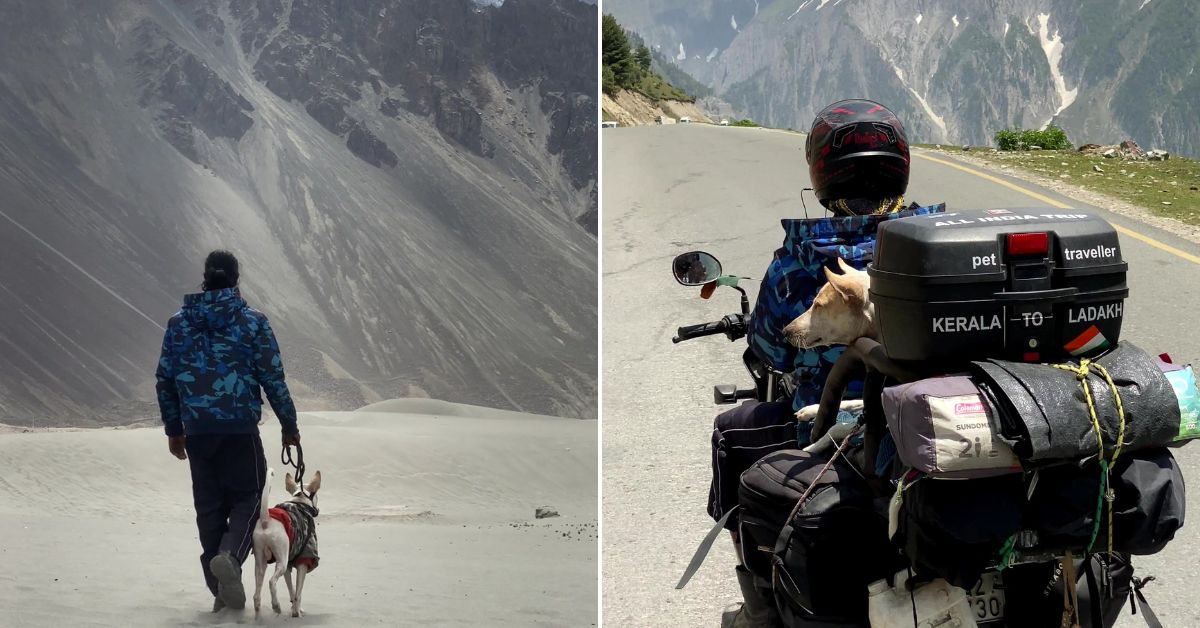 But despite the hiccups, he adds that the best part of the journey was that they got to meet a lot of people from different states and cultures. "Wherever we went people were curious to see Snowbell on my bike and it became a conversation starter everywhere," he says with a smile.
Sudheesh says that cooking breakfast and dinner saved them a lot of money as they were on a budget. "We only had lunch from outside. Otherwise, we cooked and ate something light and healthy for breakfast and dinner," he points out.
After returning home and fulfilling his longtime dream, Sudheesh says that it was worth all the efforts. "I had the best travel partner and I am happy that I could give Snowbell an experience of a lifetime. In return I would say that he made the trip even more special and less lonely for me," he says, with a hopeful glimmer of returning to the northeast with his fury friend soon.
Edited by Yoshita Rao