In August 2021, PETA provided the Pennsylvania State Police with undercover video footage of workers kicking, stomping on, beating, throwing, and mock-raping turkeys at farms that supply Plainville Farms—a company that claims that turkeys from its suppliers are "humanely raised" in a "stress-free environment."
Just over a year later, our persistent requests for action have been answered: Law enforcement has filed charges for the cruelty that PETA's investigator witnessed.
PETA's investigator saw workers viciously kicking and stomping on turkeys, violently hurling the birds at each other, and punching them. One man hit turkeys with a heavy metal rod. Another was seen holding a bird by her injured neck and mimicking masturbation before dropping her on the ground and kicking her.
Crew leaders did nothing to stop the abuse, and one of them—who kicked turkeys himself—repeatedly encouraged workers to kick and throw the birds. He now faces dozens of charges.
With a total of 139 charges—including six felonies—against 11 men in six different counties, this case against former Plainville Farms workers involves the most charges and defendants in any case of cruelty to factory-farmed animals in U.S. history.
PETA's Persistent Efforts Put Plainville in Its Place
Following our 2021 investigation, Plainville was stripped of its "humane" certification, Whole Foods pulled its turkey products, and Plainville terminated 13 workers.
Meanwhile, PETA kept the pressure on the Pennsylvania State Police to file charges. In April 2022, we put up a "Why No Arrests Yet?" billboard near the department's headquarters, urging the agency to file charges swiftly against the workers who were caught on video abusing and killing vulnerable birds. Later that month, PETA supporters confronted state police at the department's headquarters armed with large photos of abused turkeys and signs reading, "File Cruelty Charges!" and "Why No Arrests Yet?"
In July 2022, PETA supporters held similar rallies outside several Pennsylvania district attorneys' offices, including in Carlisle, Chambersburg, McConnellsburg, New Bloomfield, and West Chester.
Our action alert was a success—supporters sent more than 13,000 e-mails to the Pennsylvania State Police in just a few days.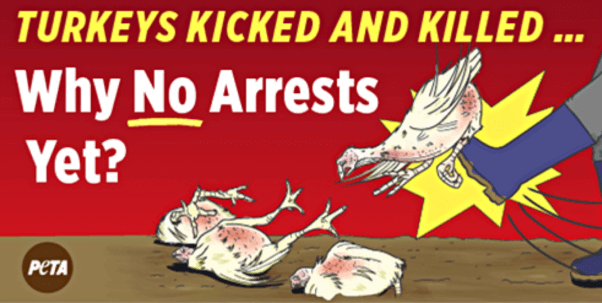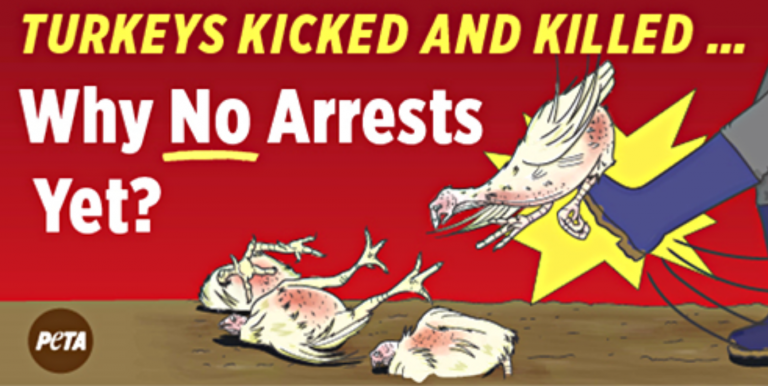 Speak Up Against Phony 'Humane Washing'
There's no such thing as "humane" meat, eggs, dairy, or anything else stolen from an animal. Don't be misled by marketing claims that animals are raised in a "stress-free" environment and trucked in "comfort." If you don't want animals to suffer, don't pay for their abuse.
Urge Whole Foods and Global Animal Partnership to stop duping consumers with false "humane meat" claims: