For Immediate Release:
November 1, 2022
Contact:
Robin Goist 202-483-7382
New York – On Thursday, New Yorkers will lend PETA their ears, literally, when Snow Tattoo artist Sarah Gaugler tattoos them with custom designs featuring the phrase "end animal experiments" and paw prints belonging to Samson—one of 4,000 beagles rescued from a laboratory supplier that closed down following a PETA undercover investigation. This free event will highlight how the experimentation industry tattoos ID letters on the insides of dogs' delicate ears to mark them as test subjects to use and kill later.

"For dogs, whose hearing is four times as sensitive as our own, the torture at Envigo started when they were held down and forced to endure the noise, pain, and terror of being tattooed," says PETA President Ingrid Newkirk. "Millions of animals a year continue to be blinded, scalded, cut open, and killed in cruel and useless experiments, and we hope Samson's story will inspire everyone to insist on a switch to superior, non-animal research."
At the event, PETA will share details about the Research Modernization Deal—developed by PETA scientists, which provides a strategy for replacing animals with modern, high-tech research methods—and will film participants' before-and-after reactions to their new ink. Attendees will also get first dibs on a new T-shirt designed by Gaugler. The shirt features the words "thank you for listening" and a picture of Samson.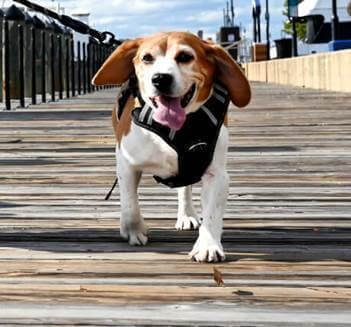 Samson, post-adoption
PETA—whose motto reads, in part, that "animals are not ours to experiment on"—opposes speciesism, a human-supremacist worldview. For more information, please visit PETA.org or follow the group on Twitter, Facebook, or Instagram.