Every evening, as dusk settles, college students around the national capital come to the end of a long day of lectures and assignments. Their chatter suggests that they have plans to relax, and probably grab a bite to eat before they head home.
But for two students of Delhi University — Arts student Jasdeep Kaur (Jiya) and law student Ishan Joshi — the schedule is slightly different.
Every day after classes, they head to the areas around Laxmi Bai Nagar in New Delhi to feed more than 200 stray animals. This is part of their initiative Pawriwar, which was started in 2020, as a way of reaching out to these strays.
The latest addition to this venture is the community kitchen that they have set up for animals.
A mission born of empathy
It all began in 2020.
"The government had introduced a redevelopment policy that called for the reconstruction of government colonies. With residents being shifted elsewhere, strays were stripped of their only source of food," says Jiya, adding that the unprecedented lockdown that followed made things worse.
"Local food joints shut down, and Ishan and I wanted to rise to the occasion. So we put together our savings and started feeding strays."
Along with taking care of their food requirements, the duo would also take care of adoptions, vaccinations, and rescue services. What started as a one-time feeding drive for 20 strays was now shaping up to be an endeavour that cared for over 250 animals every day. This was when Ishan, who managed the finances of the venture, realised that the costs were exceeding their budget.
Prior to this, the duo had been procuring meals from different community kitchens around Delhi to feed the strays, the latest being in the Tughlakabad extension. So on realising the rising costs, Ishan came up with an idea — turning his home's backyard into a kitchen.
"This way, we would also have the flexibility of payment," he says.
A community kitchen for strays
How tough was it for two college students to build a community kitchen in the backyard?
"Very," replies Ishan, but adds that they knew this would be beneficial in the time to come.
So they went about placing a stove and some utensils in the space, but soon realised that harsh weather would interrupt their plans. To tackle this, they decided to cover the area with a shed. The entire process took them a week to set up.
Work begins in the early evening hours, Jiya says. "The cook starts preparing the chicken and rice at around 4.30 pm, after which the food is left to cool down," she explains. Then, Jiya mixes the food and divides it into small packets. The duo then hands over the packets to daily wage workers at construction sites, who have been feeding the animals for a couple of months now. Once they ensure that the animals have been fed, they then proceed to feed some more strays in Sarojini Nagar, Netaji Nagar, and Narouji Nagar, as well as some areas of Safdarjung Enclave and Laxmi Bai Nagar.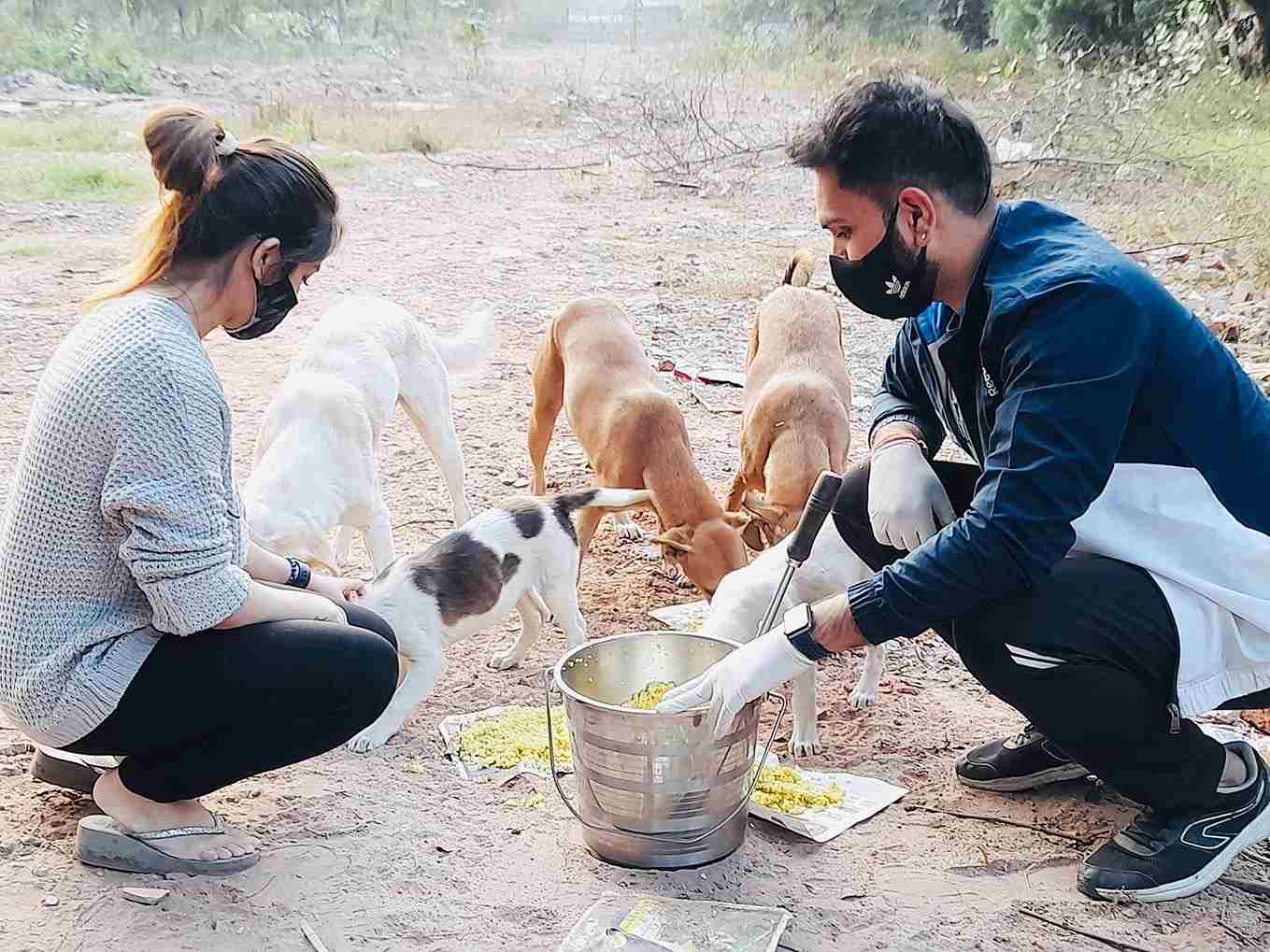 The 18-20 kg of chicken and 25-30 kg of rice prepared are enough to feed over 200 dogs and cats every day, the duo says. Apart from the regular feeding, Ishan and Jiya also feed monkeys and cows twice a week.
Having their own community kitchen has helped them tremendously, says Jiya. "It helps us save money in many ways. Since we are not the ones to cook and distribute the food, we can control our resources and expenses."
While their work is impressive, they face the constant challenge of lack of funds.
"We've never had stability when it comes to managing expenses," she says, adding that the crowdfunding they do through social media platforms does not help much. So they put in their own savings. As their monthly expenses go up to Rs 45,000, the duo is constantly looking for support.
With a goal to expand their feeding in different areas of Delhi and ensure that no stray is going to sleep with an empty stomach, they wish to expand further.
To date, Pawriwar has also managed to get 113 stray dogs adopted and fostered, and rescued over 1,000. They have also got stray animals sterilised through their vaccine drives.
Jiya says that the duo provides preliminary care for minor wounds, scratches, etc, while for more serious cases, their veterinary friend Shibangini Das helps them with the amount of dosage required, antibiotics, and oral medications. They then call her in for a consult.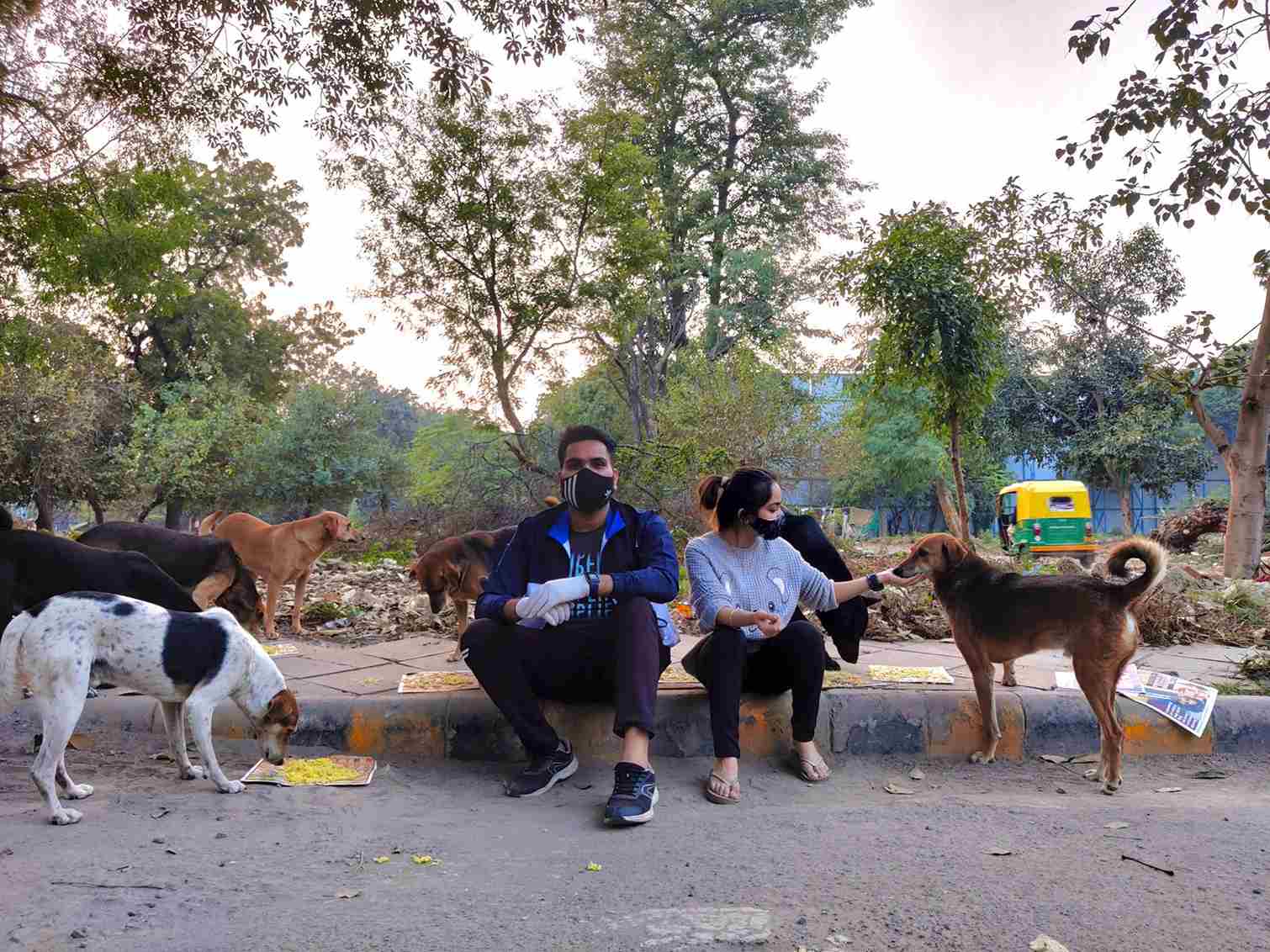 "If required, we sometimes bring home a stray that has been hurt and foster them as well. Apart from this, we encourage people to adopt our Indie kids, and we've found families for over 100 kids so far," says Jiya.
However, due to limited resources and hands on deck, they find it tough to respond to every plea for help. But it is their love for animals that keeps them going.
"If we won't do it, no one else will," she says adding that these animals rely on them for the only meal they get in a day.
For Ishan and Jiya, who have been fond of strays since their playschool days, Pawriwar is a way for them to now reach out in a substantial way to these animals.
But they face their own set of challenges.
"We sometimes receive calls from Noida and Gurugram, but cannot go to these areas as they are far," says Jiya. In these cases, they ask the person contacting them to do the primary treatment and guide them virtually after a consultation with a vet. Once the animal gets better, they get in touch with other stray support groups in the area and ask them to take charge.
To aid in their operations, they soon plan to open a shelter for injured strays to be treated and fostered, as well as start an ambulance service to be able to rescue injured animals in the shortest time possible. They also plan to expand their services across Delhi.
If you wish to donate to this cause, click here to do so.