From seafood to snacks and everything in between, new vegan products are more plentiful than ever before. As the demand for conscientious options grows, more and more vegan choices are coming on the scene. Big companies such as Ritter Sport, Krave, Oatly, and Omni are adding new vegan products to their rosters, and new vegan companies are emerging each year. Humans aren't the only ones who benefit from this growing trend. Animal agriculture is responsible for the death of billions of animals each year. It also plays a huge role in the destruction of our planet. So when companies don't use animal-derived products, they spare the lives of playful cows, intelligent pigs, social chickens, and countless other animals and help preserve the environment.
Companies Get Creative With New Vegan Proteins and Meals
New vegan meats, seafood, and frozen dinners hit shelves so often these days that it's hard to keep up. Here are just a few of the many options that will soon be available:
Blackbird
Make-at-home vegan wings and pizza from a PETA Business Friend? Sign us up! Find these delicious favorites in the frozen food aisle at Target and other grocery stores nationwide.
Daring
Daring's Buffalo wings and multiple ready-to-heat meals join the growing list of quick and easy-to-make vegan foods in stores.
Omni
Omni will be introducing two new vegan bao buns: a gochujang version filled with pork-style strips and a teriyaki flavor with pork-style ground "meat."
Konscious
Fish-free sushi, poke bowls, and vegan onigiri? This new vegan seafood company has it all and even won an award for its innovation. Fingers crossed that we'll see its products in U.S. stores soon.
Gardein
Looking for a quick and easy meal? Look no further than this Sweet & Sour Chick'n Ultimate Plant-Based Bowl from Gardein. If sweet and sour isn't your style, try another flavor instead.
TiNDLE
This chef-created chicken made from plants, previously available only in restaurants, can now be ordered for nationwide shipping on Goldbelly.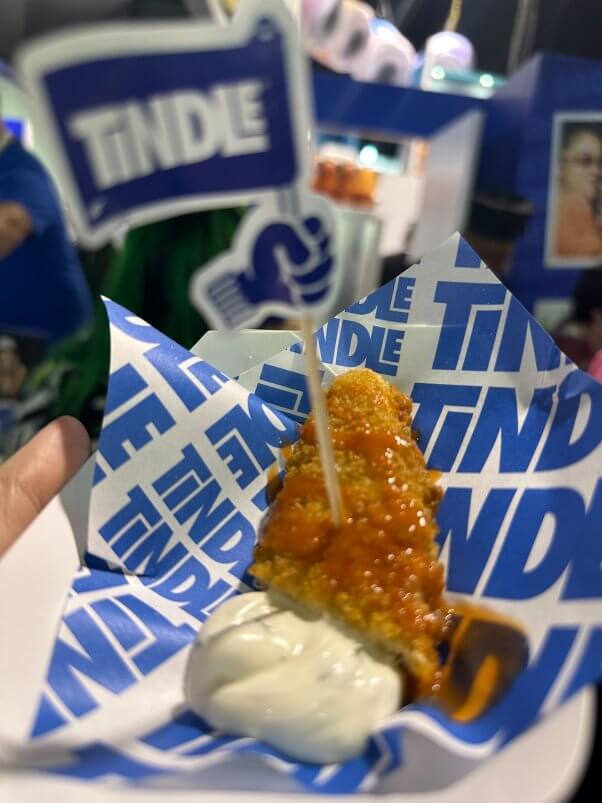 Jinka
This company's fish-free seafood selection continues to grow, with the addition of calamari and crab poppers.
Tattooed Chef
Vegetarian company Tattooed Chef sells an impressive number of vegan options, including pizzas, burritos, and bowls. Look for them in the frozen food aisle at Target.
Krave
The well-known jerky company Krave now offers a compassionate choice, with its plant-based jerky sticks in three flavors. Find them at Sprouts.
Dairy-Free Options That Are Sure to Delight
It's never been easier to ditch dairy, from creamers and ice cream to sour cream and yogurt. Spare sensitive cows with these delicious dairy-free options.
Califia Farms
Add some summer fun to your coffee with Califia's limited-edition s'mores creamer.
Daiya
The gluten-free and vegan company Daiya will be expanding its flatbread line with a new vegan Chick'n, Smoked Bac'n & Ranch Style option.
Elmhurst
The dairy that ditched dairy nails it again with its new sour cream.
Oatly
Another vegan whipped cream in a can will be hitting the scene, and we can't wait to buy it, as it will make the perfect topper for an ice cream sundae or a pumpkin pie. Keep an eye out for the vegan cream cheese, too!
Cocojune
This vegan yogurt company will be adding labneh to its list of coconut-based products.
Forager Project
Dairy-free powerhouse Forager will be adding a honey-alternative cashew milk yogurt to its already extensive product list.
Climax Foods
Innovation takes center stage with this new vegan cheese company. We can't wait to add its brie and chèvre to our next cheese board.
WunderEggs
After launching its vegan hard-boiled egg, this unique company is bringing new cruelty-free egg white patties to the table.
MozzaRisella
PETA Business Friend MozzaRisella offers a line of vegan cheeses created in Italy in stores around the U.K. In addition, its new MascaRice takes tiramisu to the next level.
Animal-Free Snacks and Sweets to Savor
It's time to get excited about these new goodies from some favorite brands as well as tasty treats from new companies.
Abe's
Meet the stars of your next party: Abe's new vegan mini cupcakes in chocolate and vanilla flavors. We can't wait to stock up on these delicious bite-size sweets.
iChoc
A fully vegan chocolate company that has a stamp of approval from Billie Eilish? What more could you want?
Mellody
This brand, created by MeliBio, offers a new vegan honey made from plants—instead of stolen from hardworking bees—that looks, spreads, and tastes like the real thing. It's currently available at select restaurants. You can also find it on Goldbelly, as part of TiNDLE's Sweet Honey BBQ Chicken Wings pack, and Mellody will likely collaborate with other exciting vegan companies in the future.
Dandies
Giant gelatin-free marshmallows and marshmallow cream, anyone? The Campers, specifically sized for the perfect s'mores, should be here in time for summer, and the cream is slated to finally hit shelves by the end of 2023.
Quinn
Gluten-free snack company Quinn will be offering new Plant Based Pizzeria Cheezy Filled Pretzel Nuggets.
Ritter Sport
German chocolate giant Ritter Sport will be adding a new vegan line! Flavors include Roasted Peanut, Salted Caramel, Smooth Chocolate, Crunchy Whole Hazelnuts, and Crunchy Almonds.
*****
These are just some of the many new vegan products coming to stores soon. We're so glad that companies recognize the growing demand for animal-free options and are ready to embrace the future. If you want to see more vegan options in the future, contact your favorite companies and brands and let them know.
More Vegan Foods to Try