Bullfights are bullshit: That's the message Kate del Castillo wants everyone to hear as the 2023 bullfighting season in Mexico comes to a bloody close. In this stunning new ad, the actor and honorary director of PETA appears with her hair fashioned into horns and smoke coming out of her nostrils, clearly expressing her anger that thousands of bulls continue to be tortured and slaughtered every year in this barbaric spectacle.
A Spanish-language version of the dramatic ad is running on buses that pass right by the Plaza de Toros Nuevo Progreso in Guadalajara, where Mexican bullfights have been held this year, after being indefinitely banned from Mexico City.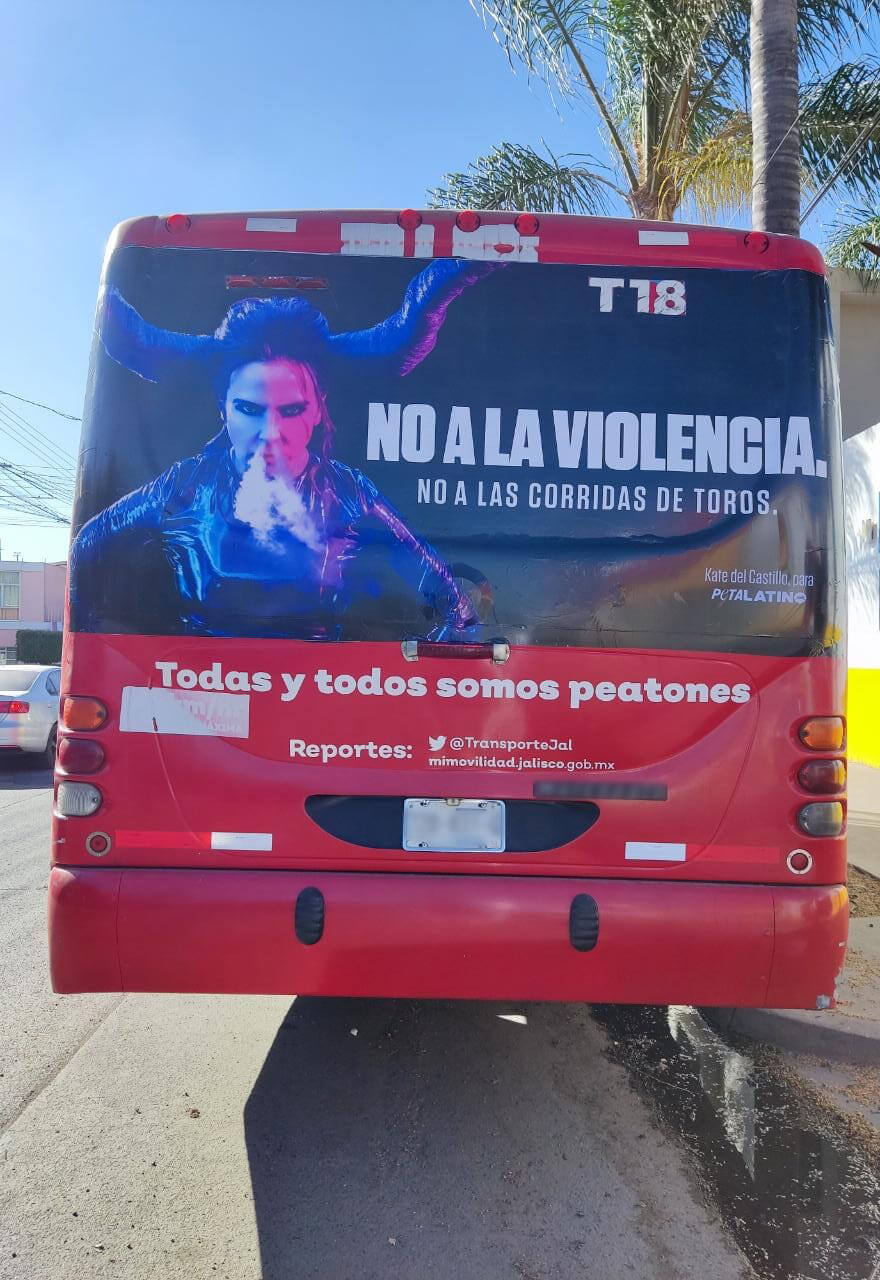 Kate also stars in a heartbreaking new video in which she narrates a bullfight from the animal's perspective. "What did I do?" she asks. "Why does it amuse you to see me like this, tortured, mutilated, and dying?" She concludes, "Bullfighting is torture, not culture."
"Bullfighting" isn't really a fight—it's a bloodbath that glorifies the torment and killing of bulls, who don't want to participate in these cruel, barbaric events. During a typical bullfight, a bull is forced into an arena in front of screaming, jeering crowds. Picadors on horses drive lances into the animal's back and neck muscles, and banderilleros plunge banderillas—brightly colored sticks with a harpoon point on the end—into his back.

Once the mutilated bull is too weak from blood loss to defend himself, the matador attempts to sever the animal's aorta. After the "fight," the bull's body is dragged out of the ring and replaced by the next victim, who will endure the same horrible fate.
Mexico's bullfighting season concludes at the end of March—and like 73% of Mexicans who support a national ban on bullfighting, Kate wants this year's season to be the last.
As public support for bullfighting steadily declines, the list of cities issuing bullfighting bans continues to grow. The Mexican states of Coahuila, Guerrero, Quintana Roo, and Sonora have all banned bullfighting, and Mexico City—which is home to the world's largest bullfighting ring—banned it "indefinitely" in 2022. Cities like Guadalajara need to get with the times and stop promoting the ritualistic slaughter of bulls.
Here's How YOU Can Help End Bullfighting
Please pledge never to attend a bullfight. Join local protests against bullfighting, and let others know about the cruelty of these primitive events.