It was 2001, and Kelly Fidler was in New York City, determined to toss a tofu cream pie at big, bad, shameless fur designer Karl Lagerfeld.
"Karl was too far away, but I knew it was a now-or-never situation, so I just went for it," Kelly says. "But as soon as I raised my arm, a cop ran up and blocked it, and my pie fell straight down onto me." She had missed the mark, but her sisters saw her on Entertainment Tonight that evening, and her arrest was included in VH1's 100 Greatest Red Carpet Moments. Oh, and Karl Lagerfeld eventually ditched fur.
Amber Hogg is another remarkable activist. For her very first demo, she crashed a Thanksgiving parade in Chicago in her birthday suit, also to protest the fur industry. "When you're in your early 20s, it's a lot of fun!" she says. "You hop right in with a banner and try to make it as far as possible before the police show up."
It's not surprising that PETA Foundation employees participate in colorful stunts to highlight animal issues, but you might be surprised by Kelly and Amber's day jobs.
Compassion by the Numbers
As vice president and director, respectively, of the PETA Foundation's Finance Department, Kelly, Amber, and their team keep the organization humming. They handle payroll, corporate credit cards, bank and investment accounts, donor annuities, and accounting and budgets for various PETA entities. They work to ensure that PETA is frugal and fiscally responsible, and they have their eagle eyes on everything from expenditures to bequests.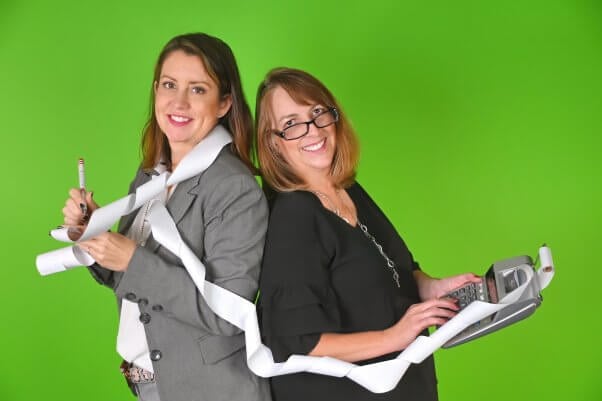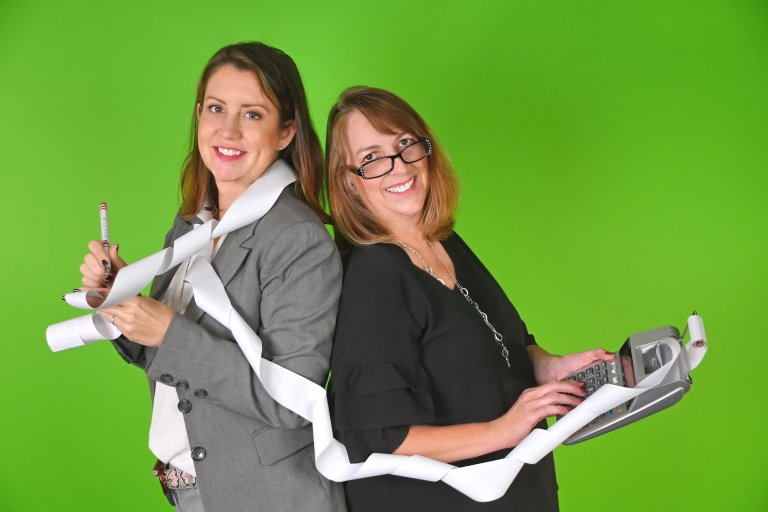 Kelly says that one of her favorite tasks is preparing the annual reports on gifts that donors designate for a specific issue or program that's dear to them. She also gets a kick out of annual audits: "To me, it's a wonderful opportunity to prove every year that our work is top-notch. I'm confident in our processes and happy to have the outside auditors come in and confirm that we did things right." Amber adds, "Our work keeps the finances clean and accurate. It's all about integrity and loving the PETA Foundation's mission."
Checking All the Boxes
Kelly and Amber didn't grow up as animal rights advocates. When Kelly was 5 and living in rural Ohio, her mother surprised her with a puppy named Daisy, who was kept outside. During Daisy's first winter, she had puppies, who froze to death inside a doghouse. After that, she was spayed and allowed to live indoors. Amber had a babysitter who would take her to her family's farm in North Carolina, where she recalls seeing pigs' heads and body parts stacked up on tables on slaughter days.
Fortunately, life events changed Kelly and Amber forever. In 1996, Kelly moved to Hampton Roads, Virginia, and happened to drive past PETA's headquarters. "I knew in my soul that I wanted to be in that building. I wanted to work for PETA," she says.
Around the same time, a friend of Amber's got a job with PETA. "She brought me the VHS tape of Meet Your Meat. I will never forget that night. I got sick. I cried. And I immediately went vegan."
Soon, the two of them were working in the PETA Foundation's Finance Department, and they've proved themselves to be real assets to our work.
They never miss a chance to bag straw for dogs left out in the cold, and before Amber moved, they often paired up on weekends to deliver straw to families in need. Kelly has protested while dressed as a nun, and she prepares vegan fried chicken for staff cook-offs. After 9/11, she traveled with PETA's rescue team to New York City to help reunite stranded animals with their families. On a recent vacation to the Dominican Republic, she volunteered for a rescue group, walking the dogs and delivering food for the animals as well as vegan treats for local residents.
Amber has taught staff PiYo to keep them fit, is raising her children to respect all animals (during the pandemic, she and her sons watched PETA staff meetings together), and makes sure to keep up her activism. She also reminisces about picketing outside a KFC store in Hong Kong with PETA Asia staff and says, "My poor mother was frantic that I would be arrested, and I couldn't get her on the phone to tell her I was all right." Today, she's known as the "turtle lady": In her rural community, which has high speed limits, she always stops to help turtles safely cross the road.
Take Action Now
Kelly and Amber are two of the PETA Foundation's unsung heroes. If you're inspired to join them, we're always looking for smart, compassionate, hardworking people.